Designer pendant lights: for living rooms, dining rooms and kitchens
Suspended lightning for living, dining, kitchen areas and app users
► DESIGNER PENDANT LIGHTS: THREE DIFFERENT DESIGN STYLES
► THE IDEAL SIZE AND HEIGHT
► SMART LIGHTING: CEILING LIGHTS WITH APPS
► DESIGNER CEILING LIGHTS: WIDE PRICE RANGES AND A TIP FOR BEGINNERS
► LIGHTING PLANNING AND CONSULTING AT SMOW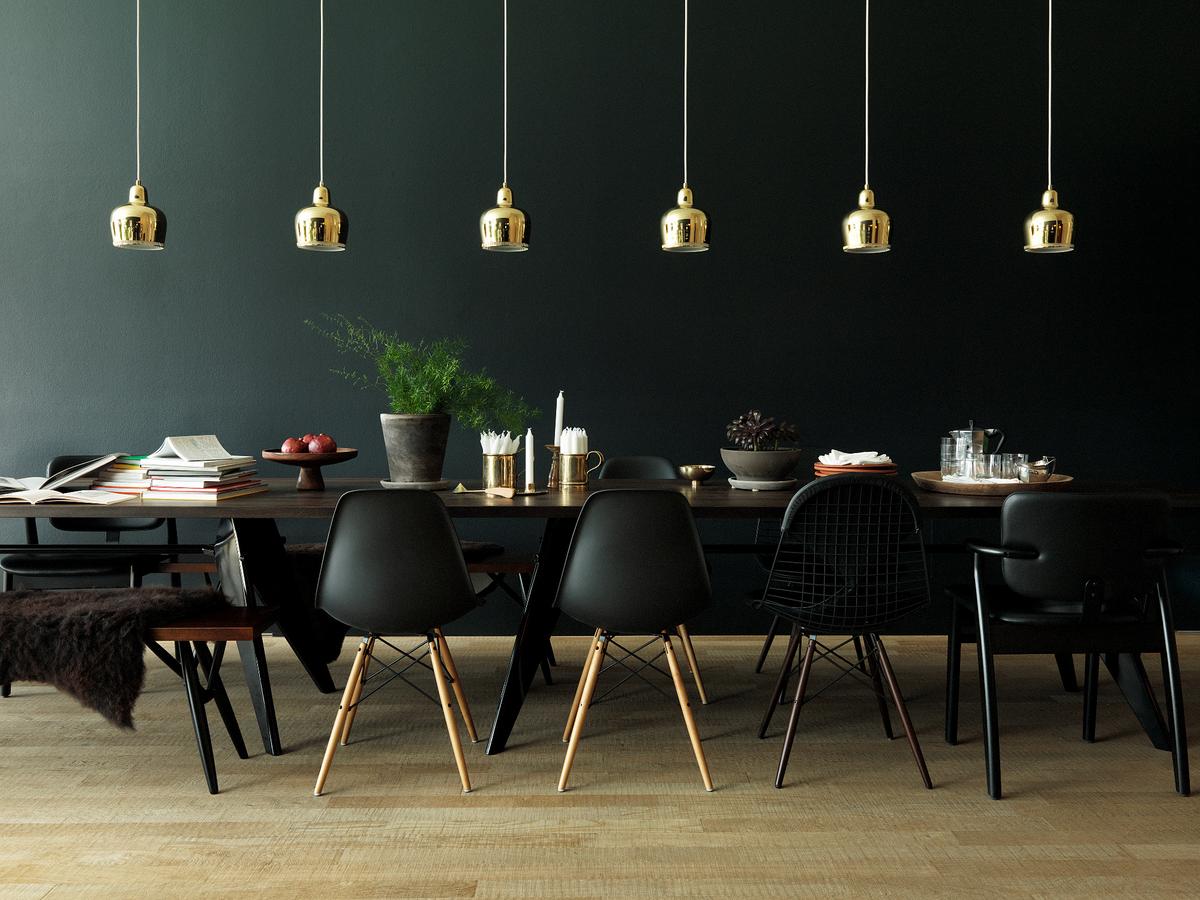 How do I find the perfect ceiling light for my living room? One ceiling light or two wall lights in the kitchen? Are my rooms high enough for an elegant ensemble of pendant lights? When developing the optimal light plan there are a variety of aspects to consider depending on the space involved, our handy list will guide through them, and at the end we also present an inexpensive designer lamp classic as an entry-level model as well as some app-controllable designer lights.
While the kitchen and dining area should be well lit, the living room should use a lighting concept consisting of complimenting ceiling and table lamps that can be used flexibly and ideally dimmed. In the bedroom soft lighting creates a calm atmosphere, discreet light sources such as the AJ wall lamp by Louis Poulsen or one of the four Bauhaus table lamps by Wilhelm Wagenfeld are ideal.
Designer pendant lights: three different design styles
Designer ceiling lights come in a variety of styles, including:
► Classic, modern: the popular hanging lights by the Danish lighting designer Poul Henningsen are particularly good examples. Thanks to their timeless design, sophisticated, glare-free light distribution, as well as variety of forms, models and colors, the Louis Poulsen ceiling lights by Poul Henningsen have established themselves worldwide as modern design classics.
► Contemporary, minimalist: If you are looking for stylish, contemporary living minimalism then the ceiling lights from the Hamburg lighting manufacturer Grau could be just the thing for you. Lights like the Falling hanging light made of painted aluminum combine modern LED technology with a futuristic, minimalist design language.
► Extravagant, playful: Ceiling lights such as the Vertigo Nova pendant light from Petite Friture or the Louis Poulsen design classic PH Artichoke set special accents with their extravagant design. While the Vertigo Nova pendant light impresses as an elegant eye-catcher when switched on or off, the luxurious PH Artichoke combines a playful, sophisticated design with impressive, multi-faceted lighting.
Not all lamps are the same: The effect of ceiling lights in the room
It is always advisable to rely on your personal taste when making your selection: in their capacity as luminous design objects floating in the room hanging lights play a central role in the interior design and always make an aesthetic as much as a practical statement, and thus should be selected carefully. It is important to choose a ceiling light that fits the overall design of the room and complements or highlights the desired style.
The size of the ceiling light should be chosen according to the size of the room and the ceiling height. A light that is too large can be overwhelming, while a light that is too small may not provide enough light or visual presence; therefore take the proportions of the room into account and choose the right size of the ceiling light accordingly.
The ideal size and height
Kitchen lighting
Depending on the layout, hanging lamps in the middle of the kitchen and/or additional light sources above the worktop are most suitable. Ideally, the distance between the work surface and lamp, depending on the body size of the user, should be approx. 70-80 cm, so that it doesn't dazzle.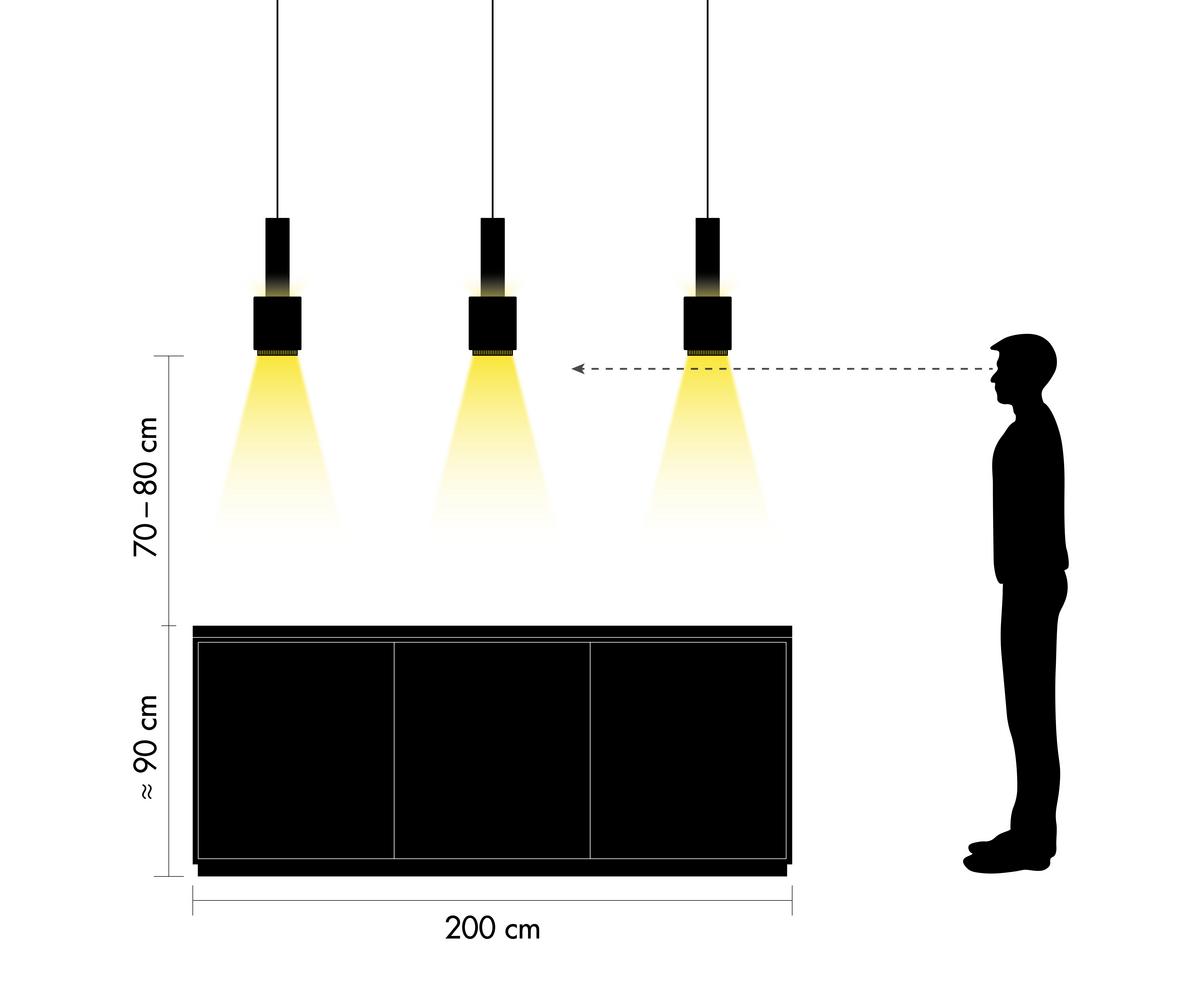 Dining room lighting
In the dining room it makes sense to place the lighting over the dining table. The table height determines the optimal height of such a dining room lamp: The distance between the table top and the lower edge of the lamp should be about 60-70 cm, so that eye contact between the people sitting at the table is guaranteed. Depending on the size, shape and length of the table, an ensemble of several pendant lights hanging side by side can also be advisable.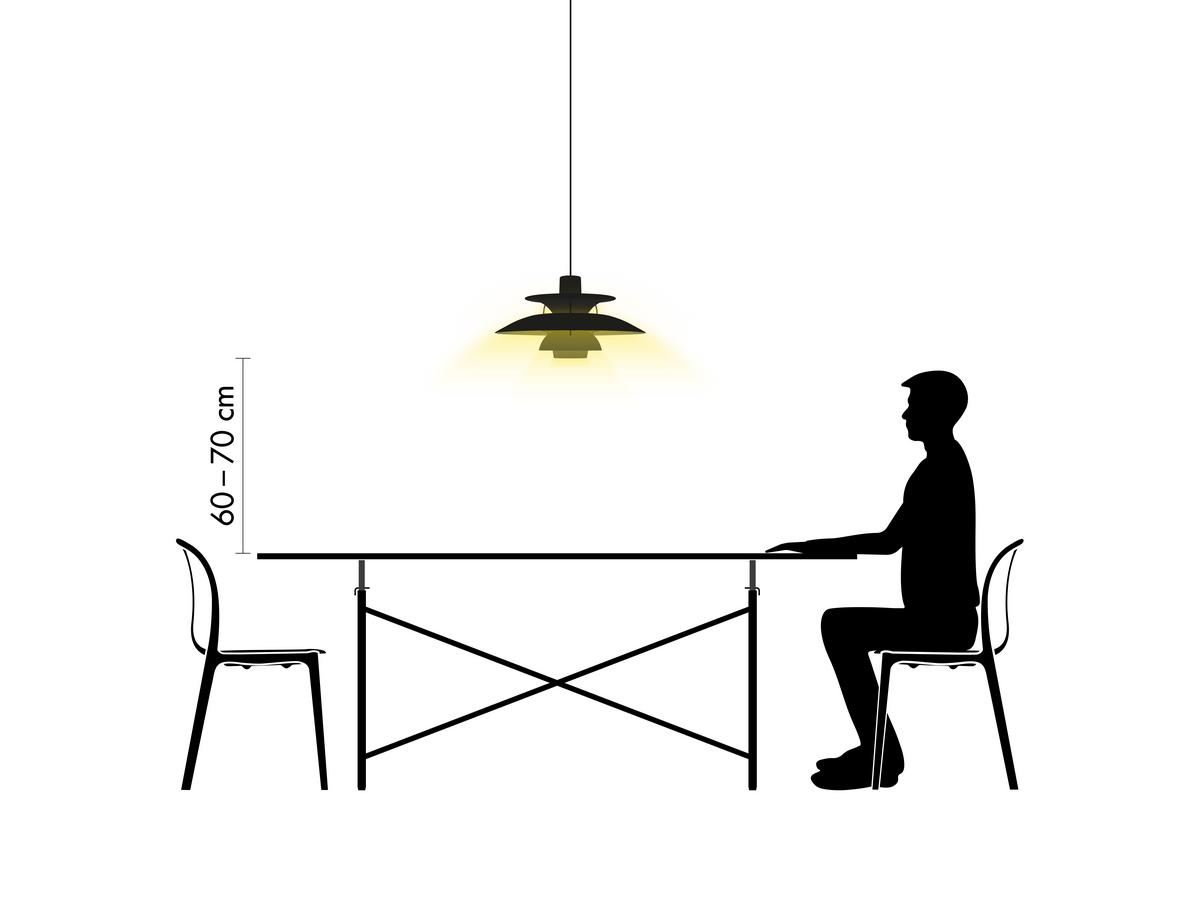 Living room lighting
Living room lights should ensure sufficient brightness and be matched to the size and height of the room. In small rooms single-lamp lighting generally proves to be sufficient; in larger rooms upwards of ca. 20 sqm, multi-lamp solutions are recommended. If desired, dimmable lights can be used, a solution which enables flexible lighting and helps create a particularly cosy atmosphere. For practical reasons living room lighting should be hung at a height of approx. 2 m. If the lamp is used more for decorative purposes, for example as ambient lighting above a coffee table or to visually enhance a corner of the room, it can be positioned lower.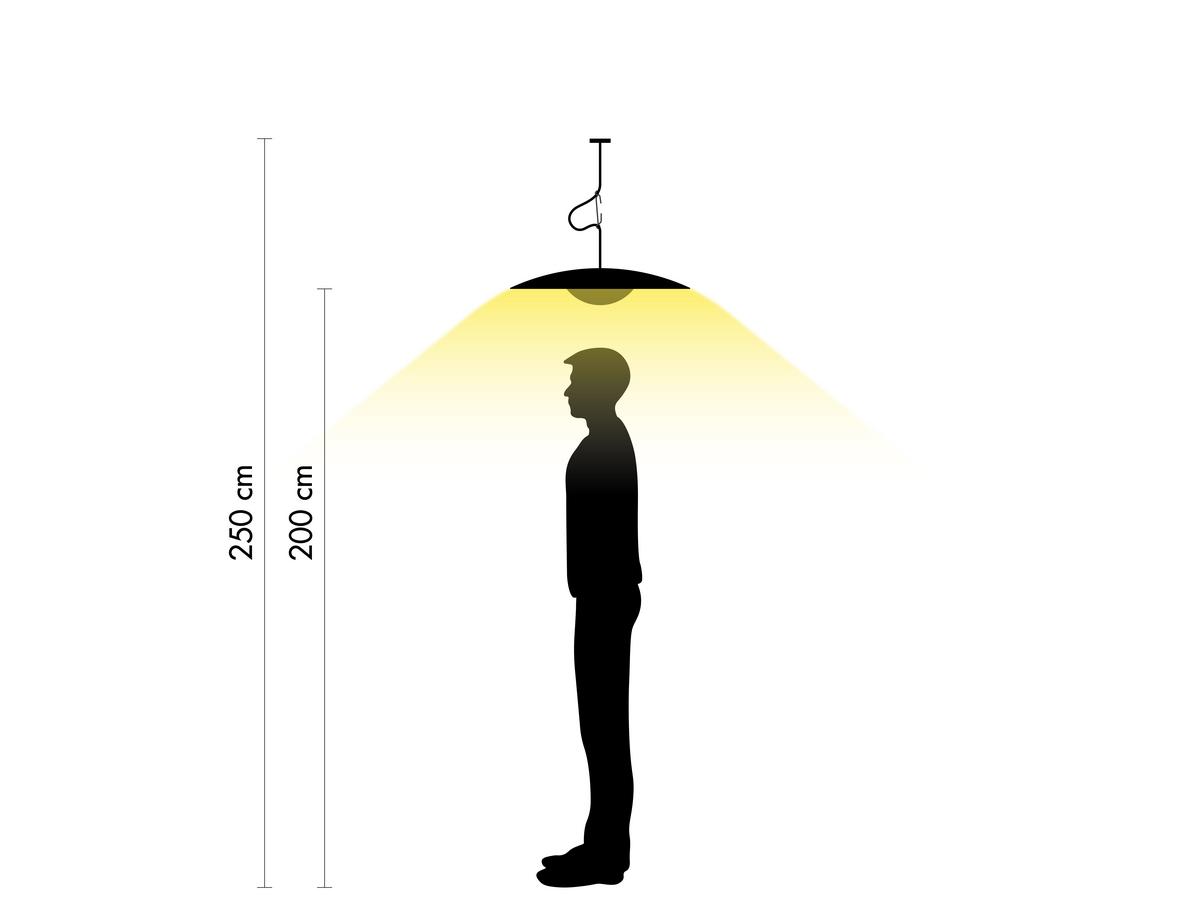 Choosing the right light source for ceiling lights
The invention of the electric light bulb by Thomas Alva Edison in 1879 represented a revolution in people's everyday lives at the time. And although the classic light bulbs provided loyal service for more than a century, they have now become obsolete due to their poor energy efficiency: incandescent lamps only convert 5% of the electricity consumed into light and release the rest as heat, and are thus extremely inefficient and backward, both economically and ecologically.
So-called energy-saving lamps were initially established as successors. Although they were five times more efficient than classic incandescent lamps, they quickly turned out to be unsuitable due to their highly toxic mercury content. The currently most modern light sources are LEDs (light-emitting diodes), which score with low energy consumption, high luminosity and longevity. This means that LED ceiling lights are particularly energy efficient, save energy costs and offer a long service life.
The advantages of LEDs at a glance
Low energy consumption
Depending on the model, LEDs consume up to 90 % less energy than conventional light bulbs.
Strong luminosity
LEDs convert the majority of the energy supplied into light and emit hardly any heat.
Durable
The lifespan of LEDs is up to 50,000 operating hours.
Pleasant lighting atmosphere
Thanks to innovative developments, many LEDs now produce the same cosy light as the classic incandescent bulbs.
Recyclable
LEDs are disposed of as electronic waste in order to recycle valuable raw materials.
Flexible
LEDs are suitable for stationary and mobile luminaires.
No waiting time
LEDs are immediately bright and do not require a transition or warming period.
Dimmable
Many LEDs can be dimmed and thus ensure a pleasant lighting mood.
Smart lighting: Ceiling lights with apps
Smart lighting in ceiling lights enables an innovative and comfortable illumination experience: lights with smart lighting systms can be operated via a smartphone app or voice control, which means that brightness and light colour can be adjusted and controlled from anywhere in the room. While timer functions make it possible to adapt smart lighting to your daily routine and improve the energy efficiency.
The Sun designer ceiling light from the Grau, for example, can be dimmed using a phase-cutting rotary dimmer with phase switch-off. The color temperature can be adjusted from light to golden to deep orange, sunset-like light and thus supports the natural biorhythm with a calming effect. The Bluetooth dimming module for control must be ordered as additional option.
Light colour: Which color temperature corresponds to which light source?
From moonlight to candles: light colour, also known as color temperature, is measured in Kelvin (K) and should definitely be taken into account when choosing the bulb for a designer ceiling light.
While cold white light is often used in offices and other work environments, or on account of its vitalizing and contrast-increasing effect in the bathroom, neutral white or warm white lamps are suitable for lighting living spaces, as they create a pleasant, cozy lighting atmosphere.
As a general rule: Indirect light should have a colder colour, direct light should have a warmer light colour. The colour temperatures of designer ceiling lights can generally be found in the product descriptions at smow.com and are usually between 1300 (Sun) and 2700/3000 K (Calipso).
Designer ceiling lights: Wide price ranges and a tip for beginners
The price range of ceiling lights varies depending on the design, materials, size and manufacturer. smow offers a wide selection of high-quality ceiling lights that are available in different price categories and thus meet the needs of different budgets. Lower priced designer ceiling lights are available from 79 euros, with prices rising into the five-figure range.
The VP1 pendant light from &Tradition, for example, is suitable as an entry-level model in the price range of around 300 euros: the stylish design lighting classic by Verner Panton in a colourful sixties style.
With pleasant, glare-free light distribution and solid construction, the VP1 offers good value for money and is ideal for all domestic spaces.
Lighting planning and consulting at smow
Are you looking for the right lighting for your office or living space? Visit our smow stores and let our trained smow team advise you. We would be happy to plan individual lighting solutions for you - from the bedside lamp to the lighting concept for your company, everything is possible. Depending on the project, your project will be realized by our architects, interior architects or interior designers in a local smow store or via our online shop. You can reach our planning department from Monday to Friday between 8 a.m. and 7 p.m. on 031 981 40 67 or by email at project@smow.ch.